February 4, 2020
Sayreville, New Jersey
Smart people don't always make the right decisions. There's no guarantee that employing the classic combination of empiricism and analytical thinking leads to the truth. Anyone who's read David Halberstam's 1972 history of Vietnam, The Best and the Brightest (which I blogged about in 2007) knows that smart people can get us embroiled in disasters while continuing to think they know what they're doing.
Even when smart people have piloted the ship of state into icebergs or quagmires or burning pits of death, there is some consolatio: Journalists and historians can often manage to analyze what went wrong. This is what David Halberstam did, and by deriving lessons from his book, we are all better equipped to face the future and avoid committing the same errors.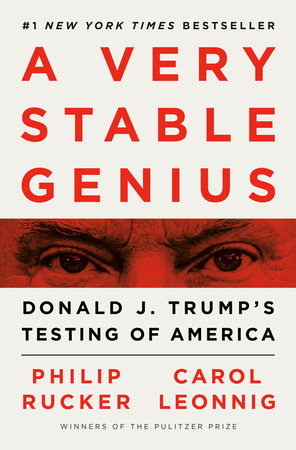 I wish I could say the same for Philip Rucker and Carol Leonnig's A Very Stable Genius: Donald J. Trump's Testing of American (Penguin Press, 2020). I wanted very much to derive some lessons from this book — something that will help us avoid such problems in the future. But those lessons are simply not there.
It's not the authors' fault, of course. It's the subject matter. If the executive branch of the government is being run by someone who behaves more like a child or a drunk than a responsible human being, it's impossible to analyze how to fix it.
What A Very Stable Genius provides instead is a hair-raising account of the past couple years of the chaos inside the White House. We now know in detail what happens when we have a President who is ignorant of American history, American institutions, American government, American principles, and American ideals, and who, moreover, has a severe case of Dunning-Kruger syndrome and is not willing to learn.
Certainly there have been attempts to educate the President. Chapter 9 of A Very Stable Genius recounts the July 20, 2017, session in the Pentagon room known as "The Tank." Secretary of State Rex Tillerson had become alarmed at the President's ignorance of history and particularly the important alliances that had been forged following the Second World War. He arranged a meeting in which the big brass could explain all this stuff with the help of a slideshow.
It didn't work. The President started talking about charging allies money for the presence of American troops. "We should make them pay for our soldiers. We should make money off of everything." He said that NATO was worthless, that existing trade agreements should be scrapped, and that he wanted out of Obama's nuclear agreement with Iran.
"It's the worst deal in history!" Trump declared.
"Well, actually . . . ," Tillerson interjected.
"I don't want to hear it," Trump said, cutting off the secretary of state before he could explain some of the benefits of the agreement. "They're cheating. They're building. We're getting out of it. I keep telling you, I keep giving you time, and you keep delaying me. I want out of it."
After calling Afghanistan a "loser war," the Commander in Chief then directed his venom towards the men and women of the American armed forces: "You're all losers. You don't know how to win anymore…. I wouldn't go to war with you people…. You're a bunch of dopes and babies."
It is in that context that Rex Tillerson made his famous assessment of Trump as "a fucking moron."
Two chapters later we discover that in conversation with Prime Minister Narendra Modi of India, Trump addressed Modi's concerns about China by declaring "It's not like you've got China on your border." Later in that same chapter, we learn about the President's confusion about his visit to the USS Arizona Memorial off the coast of Honolulu: "Hey, John [Kelly], what's this all about? What's this a tour of?"
It just goes on and on, and what's even scarier that Trump's ignorance is his petty vindictiveness, and his lack of any realization that the Presidency of the United States is about more than him. Much of this has been reported before, but getting it all in a 400-page narrative is stunning. This is a damning critique of a man who simply shouldn't be in a position of power that affects the welfare of other people.
The title of A Very Stable Genius comes from a phrase that the President used on more than one occasion to describe himself. The subtitle Donald J. Trump's Testing of America is more unnerving, for American institutions and American democracy are indeed being subjected to a stress test, and there is no real certainty that we'll survive with these institutions intact.
On July 24, 2019, Robert Mueller appeared before Congress. His halting speech, apparent confusion, and reluctance to commit to definitive statements about his investigation effectively brought that chapter of the Trump saga to an end. The numerous indications of criminal obstruction of justice were inconsequential with the President still in office.
A Very Stable Genius ends on the day after Mueller's appearance, July 25, 2019, when the newly emboldened President had a now-famous phone call with Ukraine President Volodymyr Zelensky during which he solicited a foreign government to assist in his reelection campaign.
As he ended the call, a handful of the nearly dozen U.S. officials who had been listening in fretted about what they had just witnessed. If they believed their ears and their gut, Trump had tried to use his public office for personal gain. The next day, July 26, one of the White House aides who had listened to the call confided in a CIA official that Trump's comments to Zelensky had been "crazy," "frightening," and "completely lacking in substance related to national security." The aide added that "the President had clearly committed a criminal act."
Philip Rucker and Carol Leonnig are both Pulitzer Prize winning reporters for the Washington Post, and A Very Stable Genius demonstrates their journalistic skills in accumulating information from numerous interviews and putting it together into a coherent and compelling narrative. I only wish there was another subject that they could spend their energies on rather than digging up and assembling example after example demonstrating Trump's unfitness for public office.
Yet, this book is extremely important. I know that it won't be read by the people who need to read it, but if this democratic republic still exists a hundred years from now, historians will wonder: "Did the American people really grasp how stupid and unhinged their President was?" This is one of the books that will confirm that many of them did know, although numerous other mysteries will still remain.